Fully flexible HTML chat plugin for your online community
Sign up to get your free HTML chat box to use on your website.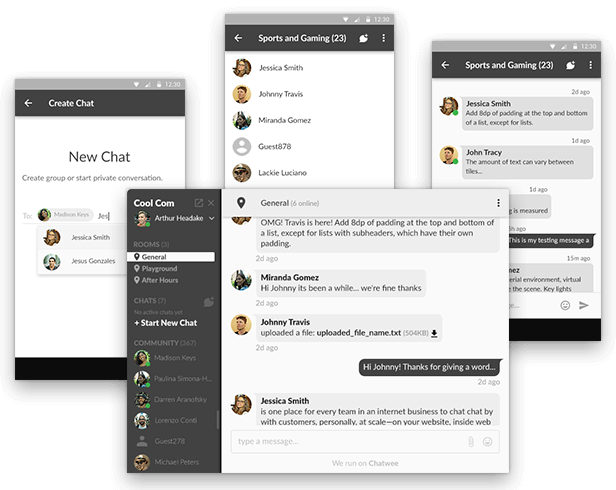 50,000+ registered websites 10,000,000+ chat users 60,000,000+ sent messages
Chatwee chat widget features
Uplift your online community with these killer live chat application features:
Mobile-ready social chatbox
Let members of your website interact live, even when they're on the go.
Effortless widget installation
Copy and paste a single line of HTML code from Dashboard into your website to make the chat plugin go live.
Multiple chat rooms
Set up multiple chat rooms, devoted to particular topics or groups within the community.
Extensive plugin customization
From click and drag window resize, to deciding who may enter yout chatbox. And everything in between.
Chatwee chat plugin users
Take a look at websites that have been using our chat plugin so far.
Online gaming and sports
Video streaming
Live trading
Faith-based organizations
Radio stations
Bands and artists
Blogs and news
Online learning
Healthcare and consultancy
Chatwee chatbox case studies
If you look at how the Internet has grown in recent years, with ecommerce becoming more sophisticated by the day and various social networks and online communities gaining in importance, it's safe to say that live chat providers are seeing their best business days so far. This shouldn't really come as a surprise because apparently, a neat, little real-time interaction widget has more applications than it may seem at first...
Online communities centered around common interests spring up all over the Web. Those, which are able to stand the test of time and thrive usually do so by offering their members, and sometimes even lurking guests, something of value. What's important and beneficent to the growth of these communities is steady communication and the opportunity to interact on the regular. Bear with me to learn about a site attracting...
Ready to empower your online community?
Sign Up and Get a Free Trial
No commitments - use the Free plan for as long as you want or upgrade anytime.